Conduction Cooled Chassis from LCR Enhances Heat Dissipation Capability for SOSA Aligned and VPX Module Payloads
The AoC3U-400 Series helps maintain safe operating temperatures
Technical Highlights:
Conduction cooled ATR chassis with air assist
VITA 48.2 3UVPX and SOSA aligned module payloads
Custom 4 slot backplanes, VITA 62 PSU slot and removable SSD bays
Cooling for up to 400W of total dissipated power
Integrated systems and payload ready configurations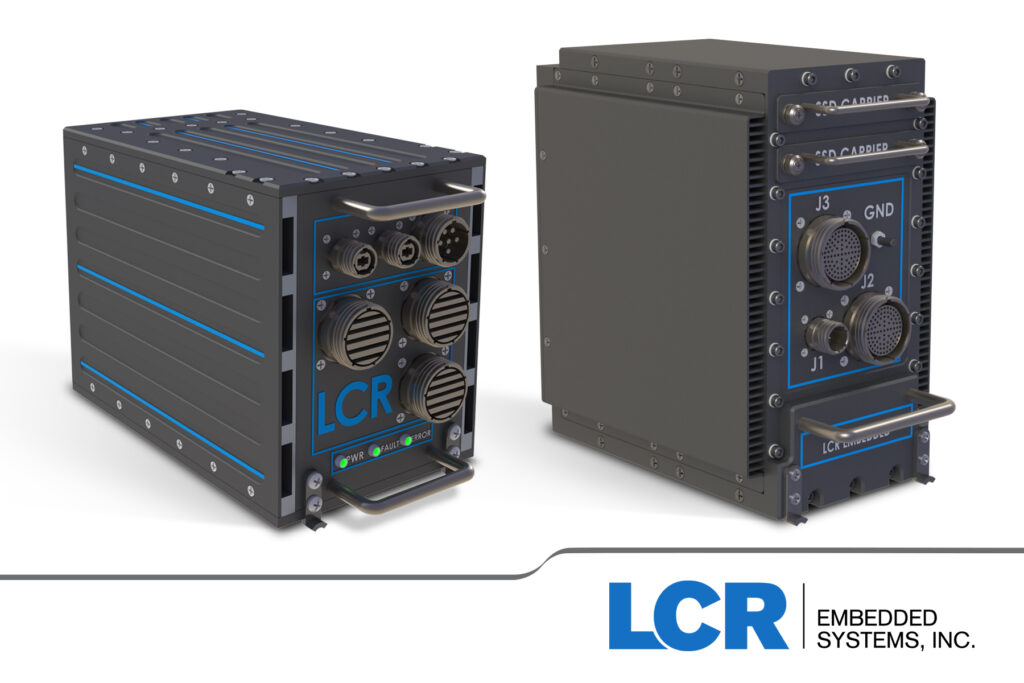 August 2021 – Norristown, PA – LCR Embedded Systems has released two new conduction cooled chassis for high speed VPX systems. The AoC3U-400 Series of chassis use leading edge technology to manage high heat dissipating board payloads.
This emerging family of ATR chassis is designed to maintain safe operating temperatures for high power 3U VPX and SOSA aligned module-based systems. Each chassis combines forced air with conduction cooling to dramatically increase aggregate heat dissipation capacity by up to 100% versus straight passive conduction solutions while leveraging readily available VITA 48.2 plug in modules.
The 410 model features 4 payload slots, plus one VITA 62 PSU slot, while the 412 model adds dual removable SSD bays. Each unit features a precise mechanical design and includes custom backplane, front I/O board and applicable connector sets. Backplane data flow profiles provide for VPX and SOSA aligned module usage, while I/O board designs support high speed copper, optical or RF signals with a range of MIL-STD connector options as needed. Optional VITA 62 power supplies provide up to 700W of power.
Designed to meet MIL-STD-810, MILSTD-461 and MIL-S-901D testing methods, the 400 Series chassis feature a rugged bolt together construction fabricated out of machined aluminum alloy 6061-T6. The chassis are intended for use in C4ISR (Command, Control, Communications, Computers, Intelligence, Surveillance and Reconnaissance) systems that operate in demanding environments across air, land and sea installations.
LCR offers customization of its chassis and will work with customers on specific design requirements for their individual applications. The company's payload integration team can provide application ready systems including partner board sets.   
"The AoC3U-400 Series reflects LCRs commitment to supporting new and emerging applications in the defense industry by improving heat dissipation performance with VITA 48.2 conduction cooled modules. This means our customers benefit from the broad functional variety that exists in new COTS VPX and SOSA aligned products," said LCR Embedded President Dan Manoukian.
For more information please call (610) 278-0840, visit us at www.lcrembeddedsystems.com or email sales@lcrembedded.com