Engineering Design
At LCR, we take a holistic approach to system design and integration including packaging, signal flow analysis, power envelope, thermal management, I/O requirements and payload integration. Our team of industry veterans brings decades of skills and applied knowledge to the design of our rugged deployment chassis, enclosures, high speed backplanes and development chassis supporting mission critical defense applications.
High Speed Backplane Brochure – Download Now
Supporting New Program Designs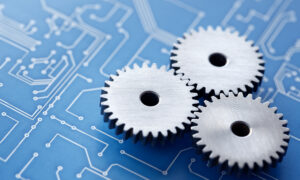 Our engineers are established in a variety of disciplines including electrical, mechanical, software, test and systems engineering. We combine experienced leadership with fresh perspectives and new ideas to form a knowledgeable and engaging staff ready to assist our customers from initial requirements review through all stages of solution realization, manufacturing and post deployment support. For decades, US DoD programs have learned to rely on LCR.
Design Tools and Expertise
We use leading edge design tools to ensure optimal results and to provide a comprehensive overview of the desired system.
Thermal Analysis
Heat dissipation in embedded systems, especially in VPX based installations is a key focal point in any chassis design. Thermal management is a top priority at LCR and SOLIDWORKS Flow CFD (Computational Fluid Dynamics) is used to evaluate and optimize the thermal capabilities and limits of every chassis we design. We analyze the behavior of the design under adverse temperatures and thermal load conditions, checking for hot spots and seeking areas of improvement. LCR is a recognized leader in conduction cooled, air cooled and hybrid air and liquid over conduction chassis solutions.
Structural Analysis
High shock and vibration are the norm in rugged defense applications and the structural integrity of any packaging solution is crucial to protecting mission critical electronics. Our experts use SOLIDWORKS Simulation to zero in on the stresses and strains of packaging under internal and external loads. SOLIDWORKS helps to reduces costs and the need for rework during the development phase. Optimization is achieved through analyzing the behavior of the design under adverse static and dynamic load conditions.
3D CAD Modeling
SOLIDWORKS is employed throughout the chassis mechanical and electrical design process starting with initial planning, detailed visual conceptualization, feasibility review, modeling and creating prototypes. 2D parametric based drawing creation using DXF, DWG, STEP, IGES, STL and other file formats.
3D Printing
3D printing has come increasingly into use in the manufacturing sector. At LCR, we've been employing and honing our skills in 3D printing for years. Using in-house equipment, we create engineering models, prototypes, production components, connectors, tooling and fixtures to support our designs beginning from the early development stages. Liquid cooled chassis often require intricate fluid paths that benefit from the precision of 3D printing. Our engineers are experienced in the use of leading edge printers and various high strength materials onyx, fiberglass, Kevlar and carbon fiber.
Design Validation Testing (DVT)
Extensive test plans are created to verify every step of a design meets pre-determined specifications and performance goals. DVT testing may include some or all of the following:
Power Load Testing
Functionality Testing
Continuity Testing
Mechanical Fit Verification
Thermal / Airflow Testing
Signal Integrity Testing
Temperature Testing
Environmental Testing

Shock Testing
Vibration Testing
EMI Testing
Full MIL-STD Compliance Testing
MIL-STD testing at LCR is standard procedure. Our off the shelf and custom packaging solutions are subjected to a range of testing methods to your meet your application specific requirements.
Vibration Testing

MIL-STD-810
MIL-STD-167-1 (shipboard

Shock Testing

MIL-STD-810
MIL-STD-901 (shipboard)

EMI Testing

MIL-STD-461 – Conducted and Radiated

Temperature Testing
Supporting 100Gb Ethernet and PCIe Gen 4 Protocols
LCR has successfully tested and demonstrated backplane signal speeds supporting 100Gb Ethernet and PCIe Gen 4 protocols. Embedded systems based on VPX and SOSA aligned board content continue to demand ever higher signal speeds. In keeping pace with that evolutionary climb, and to ensure the highest performing systems for mission critical applications, LCR has designed and completed testing of a multi-slot 3U VPX backplane that has exceeded the performance levels defined by ANSI/VITA 68.1-2017.
Our engineers are committed to delivering the highest performing backplanes for use in our rugged ATR and rack mount systems, as well as in our DK3 and DK6 VPX development platforms. In conjunction with this effort, LCR has developed an exclusive backplane test system for high-speed data transmission allowing for S-parameter characterization to 26.5 GHz. This system was verified by an outside test laboratory to provide independent verification of performance.
LCR engineering teams are located in both our Jeffersonville, PA and Jackson, MS offices.