LoC3U-510 Extends System Cooling Capacity
Part of our LoC3U-500 Series of liquid cooled enclosures, the LoC3U-510 is an ATR chassis designed to maintain safe operating temperatures for high power 3U VPX conduction cooled systems. The chassis is also designed for plug in cards in alignment with the SOSA technical standard.
It employs a liquid over conduction cooled design that dramatically increases cooling capacity compared with conduction only chassis. Coolant is channeled across VITA 48.2 card edges in a liquid-flow-by manner, cooling up to 600W of aggregate dissipated payload power.
The chassis is designed to meet a variety of MIL-STD-810, MILSTD-461, and MIL-S-901D standards and may be configured with custom or standard 6 slot backplanes which include VPX and SOSA-aligned slot profiles in combinations supporting high speed signal applications.  The LoC3U-510 is available with or without the board payloads.
Learn how LCR products can help ensure program success from the development stage through deployment.
Also consider LCR for system integration services and environmental testing.
Download PDF Datasheet
Download Chassis Brochure
Custom topologies supporting your payload module profiles
Support for 1000BASE-BX, 1000BASE-KX, 10GBASE-KX4, 10GBASE-KR, or 40GBASE-KR4
Up to 6 slots with VITA 66 and 67 Optical and RF support
Conduction cooled with liquid assist
Cooling for aggregate payload power 600W to 800W
Dual cooling side plates with integrated quick disconnects
Ethelene glycol / water (EGW) or propylene glycol / water (PGW) fluid mixtures
Single or dual VITA 62 pluggable power supplies
8.25" H (w/ optional .25" mounting feet) 6.4″ (W) x 9.69″ (D) w/connectors)
Weight approximately 30 lbs.
Application driven custom I/O panels with MIL-STD connectors
VITA 48.2 conductive cooling with liquid assist
Designed to meet a variety of MIL-STD-810, MILSTD-461, and MIL-S-901D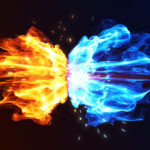 Interested in learning more about thermal management?
Read the article Bridging the Cooling Gap in High-Speed Embedded Systems
Watch the webinar Driving the Heat Out of Embedded Military Systems