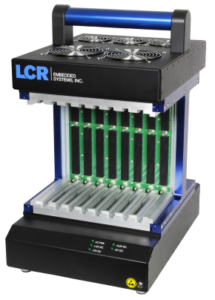 Open Frame Reduces System Design Time
The DK6 for 6U VPX features an open frame concept and enhanced flexibility with fast conversion between air and conduction cooled module guides and fast backplane replacement for easy reconfiguration in support of every stage of development.
This open frame design includes backplane, power supply, fan cooling and rear transition slots in support of a variety of test functions. Backplane choices support up to 12 6U VPX modules and individual slots are easily configurable to accept either conduction or air-cooled modules.
Learn how LCR products can help ensure program success from the development stage through deployment.
Check out our DK3 for 3U VPX system development needs.
Download PDF Datasheet
Quick-conversion air or conduction cooled slot inserts
Fast and easy backplane conversion
Open access design with a carrying handle
Accepts application targeted or power and ground backplanes
Supports up to 12 (.8" pitch) VPX modules
Intended for lab use in benign environments
Dimensions excluding feet and handle: 17" (H) x 12.5" (W) x 16.5" (D)
Weight: Approximately 42lbs
Push-pull cooling in front, pull cooling over RTMs
5 upper and 2 lower fans
Automatic fan speed control
Conduction cooled guides feature air passthrough cut-outs
Removeable side plates to direct airflow
Choose from power and ground or application targeted versions