Successful Showcase of rugged Military/First Responder tactical communications package featuring ConnectTech and other partner technology
It was a beautiful few days in Washington, DC at the
AUSA 2015
exhibition from October 12-14, 2015, and LCR Embedded Systems was pleased to have the opportunity to feature our
LSF-02 Rugged, Tactical LTE Network
at the
ConnectTech
booth.
In the cases of the armed forces and first responders, rapid response and mobility are required as well as instant and trustworthy communications between team members, and all of this must take place in extremely harsh environments where functioning communications infrastructure might not exist. And in both cases, a challenging budget landscape can impact technology choice and deployment lifecycle.
The use of LTE (Long Term Evolution) communications hardware and software where appropriately designed for tactical use answers many of these needs.
The LSF-02 Rugged, Instant Tactical LTE Network is the perfect LTE (and FirstNet-ready) solution in harsh or demanding environments without functioning infrastructure and where lives are depending on reliable, rich, and secure communications. It features ConnechTech's CCG011 COM Express carrier card as well as Radisys' industry-leading LTE Communications Software (Total eNodeB and Evolved Packet Core), and ADLink's base-band processor.
The LSF-02 is a highly customizable tactical computing and communications platform, ideal for vehicle and man-pack applications, all in a ruggedized, environmentally sealed package that weighs less than 20lbs.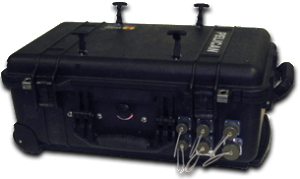 The RPCS-001 provides a highly portable and customizable computing system in a hardened enclosure that is ready for your most demanding applications and punishing environments.