2 Slot VPX Rugged Test System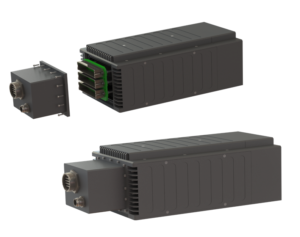 Perform functional system demonstrations and validation testing in harsh environment platforms using LCR's dual slot rugged chassis for VPX / SOSA aligned payloads – the RTS-210. The rugged design of the RTS-210 enables enhanced performance demonstration and testing at or near application level environmental conditions. The chassis incorporates proven LCR design solutions for reliable deployed system performance in extended temperature and high shock and vibration conditions.
Vehicle mounted testing
Enables testing in real world application installations
A transition platform from the bench top to the onset of deployment.
Supports a streamlined testing process leading to the full deployment system
Learn how LCR products can help ensure program success from the development stage through deployment.
Download PDF Datasheet
Download Backplane Brochure
Choice of 3 backplane versions supporting a selection of 4 x SOSA module profiles
3 slot backplanes including 1 x VITA 62 power supply slot
Uncommitted, ready for cable application
Conduction cooled with forced air assist
Cooling for aggregate payload power approaching 175W
Side walls form enclosed air chambers isolated from the modules
Concentrated air flow runs co-planar to heat sink fins
Single VITA 62 power supply
MIL-STD-704E, MIL-STD-1275 options
Dimensions: 5.11″ (H), 6.96″ (H), 12.88″ (D) without expansion module and 16.58″ (D) with expansion module.
Weight: approximately 14.5 lbs excluding payload
Application driven custom I/O panels with MIL-STD connectors
VITA 48.2 conductive cooling with air assist
Designed to meet a variety of MIL-STD-810, MIL-STD-461, MIL-STD-167 and MIL-S-901D methods